We keep trying to develop and helping people from our rural community in Prek Toal. To help us complete the projects with a local non-profit organization, Prek Toal Moving Ahead (PTMA) because of your generous support our local tour and direct donation to Prek Toal Moving Ahead Organization.
We are welcome to our wonderful group of "Friends of Prek Toal (FOPT)" that provides and shares the practical and financial support for our efforts to improve the lives, environment, education and housing of the people of Prek Toal Village.
We work tirelessly for all these projects and work closely with community leaders and villagers to ensure that the projects are valued and make a significant contribution to the village. For every work of us to the community with non-salaries or admin costs from every project and non-profit tours.
Why did we create these projects for our community?
I love the community environment and our people when I was 10 years old
I followed our parents as they work for the community
I want to help poor families who can not survive living in this difficult environment
I want to provide extra work for them to get more income
I want to support their children's education
I want to share our community to people around the world
My parents said to him: "While you still have time in your life, try to use your knowledge to help our community to have a better life. Even if people look down on you and laugh at you about being poor, please keep working and do the best you can do to help them."
This project is designed to improve villagers' housing and living quality and repair the damage to families' homes in the Prek Toal floating village. There are three floating houses built to people poor families and we are working and look our donors interested to shares financial into this projects for other and other more families neediest in the village
This is a long-term project that we focused on re-building two floating houses per year around for the most needing families who have a difficulty surviving in their current house.
Your distribution donation and booking with us; is a best way and success in the project for people and guests who wish to make a difference and getting better to our community with us.
How to Donation:
On-line Donation:"Prek Toal Home and Life"
Direct donation: Please contact me, AN Hoksan, for more detail and about the direct transfer method by Mobile/WhatsApp: +855(0)77 797 112 Or email to: hoksan-an@prektoal-tours.com
Your distribution donation and booking with us; is a best way and success in the project for people and guests who wish to make a difference and getting better to our community with us.
APPRECIATIVE TO FAMILIES
Currently, we have successfully built two floating houses for the families of:
The first was for the family of Mr. KONG Samruen. (video link: https://bit.ly/2KoQ2TY)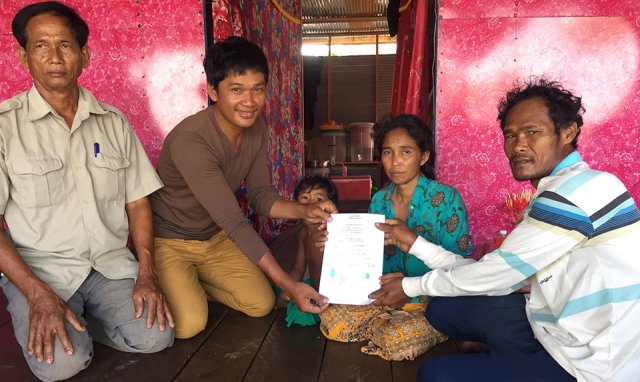 The second was for the family of Mr. SEURM Set. (video link: https://bit.ly/2UNgpcl)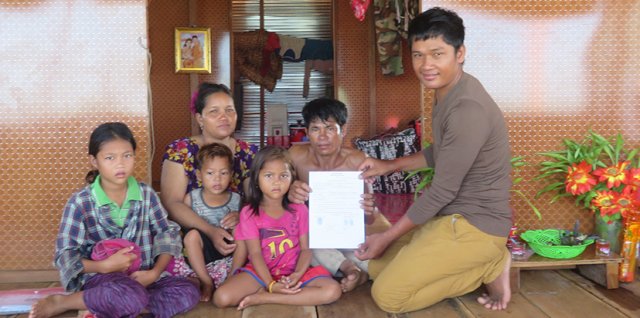 Each of those families was surprised and happy after we gave them their new floating house. They would like to say a big THANK YOU to all the donors and helpers who built the house for them, as they did not think they could ever have a house like this.
Quite recently an enormous fire burnt a very large area of our 'floating forest', which is very important to the ecosystem of the birds and fish in the area. Several acres of forest were destroyed and would not re-grow naturally, so we decided to grow the plants from seed, nurture the seedlings and plant almost 1,000 small trees.
Of course this was a big project. requiring considerable resource; financial and people. The Project Team, lead by Hoksan, arranged for almost 200 people from the village and nearby Siem Reap to plant the trees. The project funds were provided by our valued donors, both local and international.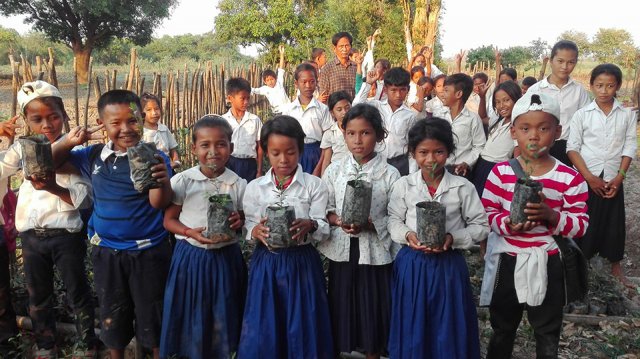 (video link: https://bit.ly/2HBJ2WY)
PREK TOAL COMMUNITY HEALTHCARE
This project focuses on educating villagers take care of their general health. On December 21 2017, 17 staff members from "The Fred Hollows Foundation – Cambodia" visited Prek Toal to do outreach screening of 80 villagers' eyes. Following the screening those who required further treatment we referred on, and others were given free spectacles.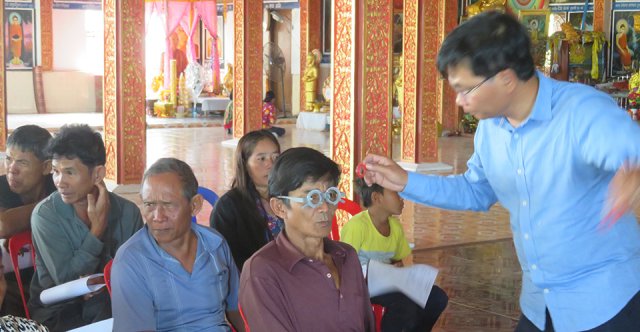 This is a long term project for us and we know that there are many aspects of the villagers' health that require attention. We are looking for supporters, donors and volunteers from doctors or medical organizations who can provide volunteered services with their materials to join with us as Project Partners.
SOLARBUDDY & PREK TOAL COLLABORATION
The distribution charity of solar lights event was appreciated and successfully start on 1st Nov 2018 with 207 students in the village has been provided. We had commune chiefs, village chiefs, teachers and some parents joined this event of this distribution charity until around 11:30am on that day.
Your support and efforts for our new venture certainly contributed to our community, especially to our students' education getting better and better, and this is a very great way that we would like to thank you for that.
(interview with family link: https://bit.ly/2OkxtE4 and distribution charity solar video link: https://bit.ly/2ztsMBU)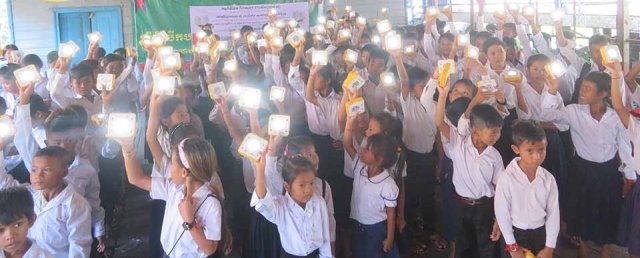 FRIENDS OF PREK TOAL
Many of the people who have donated to our projects have formed a strong link to our Project Manager and team. This group is growing almost every day and is known as the Friends of Prek Toal. These people are very passionate, keen to support Prek Toal and want to make a contribution that they know will be used 100% for the project.
To keep our work for the community going we encourage everyone to share the link below to your colleagues and friends. We hope to gather as much financial support as possible through this website.
We appreciate the kindness and generosity of all our donors and we are continually looking for new Friends of Prek Toal or/donors who can support our projects. Donations will go to each family, and donors will have a wonderful memory to keep forever as a poster showing the donors' names and photos will hang in the house (naturally with donors' permission).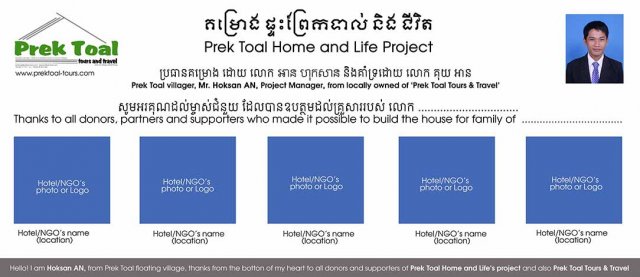 We communicate regularly with Friends of Prek Toal with an e-newsletter 'Kaset', which is the Khmer language for 'newspaper. Kaset is not only an update of our projects but the means by which information about our works can be shared among families and friends who are interested in also become a member of Friends of Prek Toal.
To see the first edition of 'Kaset', the e-newsletter of 'Friends of Prek Toal, click here.
You can make a real difference to the lives of the people in our village. Your donation or visit to our village will help our villagers to a better life and encourage them to build a good future for their families.
DONORS FEEDBACK
I would like to share with you about the feedback for our surveys from Ms. Andrea and Ms. Susan who is our donors and also they had been stay and doing trip with my local tours and travel, Prek Toal Tours & Travel, as below:
1. Why did you decide to donate or participate in our project?
First, I would like to say that both Susan and I have made every donation together.
We are inspired by:
The built-in aspects of the program that address the question of sustainability like chicken/duck farming, floating garden and tourist homestay- these all extend ongoing opportunities for the partner families' self-reliance.

The selflessness of the Program Director (and his family) whose mission is to help others who have the greatest need in the village of Prek Toal.

Donations offer very direct support to families with the greatest needs- excellent transparency and accountability.

As homestay guests, we gain and learn a lot (experience the wonderful culture and warm hospitality of the hosts; see the natural beauty of the area; learn through experience about the needs and aspirations of the local people)-this program offers a way to express gratitude through sharing - it is "win-win."
2. Do you have any suggestions about improving the promotion and delivery of our projects?
If you are interesting into supporting our projects of any above, here is our bank account:
Bank's name: Cathay United Bank (Cambodia) Corp. Ltd
Bank address: 68 Street 214, Sangkat Beong Raing, Khan Daun Penh, Phnom Penh, Cambodia
Swift BIC: CSBCKHPP
Beneficiary's name: AN HOKSAN
Account number: 03 1101 1602 3833
Beneficiary's address: Wat Damnak village, Sala Komreuk commune, Siem Reap-Cambodia
Beneficiary's mobile: +855(0)77 797 112