HISTORY OF Mr. AN HOKSAN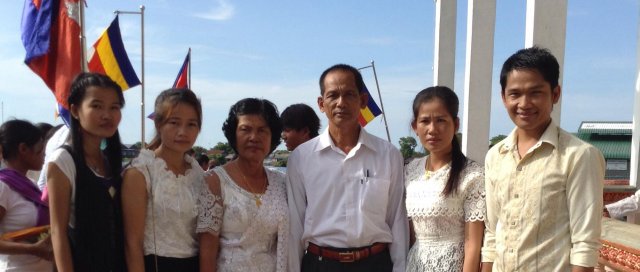 Prek Toal is the one of floating villages located in Battambang province in Cambodia; and most of villagers are living on the floating houses with their fishing as the main careers to support the families economic.
My parents and their parents were born in the floating village, Prek Toal. My father and my mother got married during the Pol Pot genocide. We were born also in Prek Toal and we are living in this village. There are six people in my family.
I am a fisherman when I was 6 years old with my father. Also, I am studying at school in the village for two times a day, which is between 07:30am to 11:30am and 13:00pm to 17:00pm for every day except Sunday. After my school then I went to do fishing with my father at night time from 20:00 to 05:00 in the morning for every day. This is our life on the floating village.
DREAM CAME TRUE
I had a big dream when I was 10 years old, that I am trying to find a better way to improving of living life of villagers who are living on the floating villages a long the Tonle Sap lake, especially my village, Prek Toal.
From 1998, I created a local tour of "Prek Toal Tours & Travel", which is providing to our villagers having an extra job by taking guests tours in the village.
From 2005, I created "Prek Toal Home Stay", which is giving guests stay at our villagers' house with shared houses and bathroom with the families host.
From 2009, I created "Prek Toal Home and Life project", is focusing on rebuilt the floating houses for poor families who cannot survives of their living and child education. We built two houses for poor family in year of 2018 by donation from our guests and friends. This is a long-term project and we need more kindly donors who want to make our community getter.
From 2010, I created "Prek Toal Community Healthcare", is focusing on health check for our villagers by taking the NGOs who providing free support and who helping the community health. We had a supporter doctors from The Fred Hallows Foundation – Cambodia in year of 2017, to do eyes screening and providing eyeglasses to the villagers as well. I am keep looking to other NGOs who are supporting in this project from my community and I hope that they will join with us to make our villagers who living on the water getting better health soon.
From 2016, I created "Greening Prek Toal Project", is focusing on replanting the small trees to where the fired was destroyed in early April till June 2016. We have been planted our small trees more than 1000 trees with more than 200 people including students on 26th March 2017. And I am still looking for donors and supporters from other NGOs who want to join and to plant small trees with us because it more 70000 hectares was destroyed by the fired around the village including some part of bird sanctuary area in Prek Toal.
From 2018, I have been collaboration with SolarBuddy organization who providing the distribution charity the solar lights to our community, especially to our students the village for their reading books, doing homework, using light in the houses and for traveling at night as well. And they keep supporting into our community for the small solar lights and also, I am looking to other NGOs who want to support the solar panel to our poor families in the village because most of the families are not possible to pay for electricity which is in higher price than in the city for electricity supply at my community.
We are not a rich family but we love to help people in the community; and I also follow my parents' advice which is a mainly key to made my life changed:
"While you still have time in your life, try to use your knowledge to help our community to have a better life. Even if people look down on you and laugh at you about being poor, please keep working and do the best you can do to help them. They will remember your work for the community forever."
Our parents, they are working so hard from fishing because they want us to graduates at university. Only two of us, me and my youngest sister are graduates of bachelor degree of marketing in Siem Reap. And about my older sister also working so hard to support after she stop at grade 9, my young sister, she was stop study in year three at university in Siem Reap because we could not survive for our schools' fees.
Our heart of a son and daughters, we keep our best to support and trying to make our parents to live a better life as we can, because they are old and cannot do hard work like before anymore. Last year, on 2nd Dec 2018, we have a every big sad in our life when our mother passed away.
So, we still keep working to support our father and also to continue my parents' goal to developing community to sustainable of living environment life and education of their sons and daughters.
To follow our heart to help, so we are focusing on our "Prek Toal Tours & Travel", "Prek Toal Home Stay" and to all of our community projects which is only in my village, Prek Toal.
OUR MAINLY GOAL
All of my works and our works which is only supports into our local community in Prek Toal, and I have set many goals for our tour and travel that takes its name from my village, Prek Toal;
To shares our Prek Toal community to the world
To shares our rural lifestyle - our culture and day-by-day living on the floating houses
To create more job opportunities for Prek Toal villagers to get extra income to support their family lives to supplement income from fishing
To give value to our guests by making arrangements to join our tours, to build and repair houses for our needy poor families through our Village Developments projects.
With Prek Toal Tours & Travel's experiences and locally expert in travel arrangements, you will be enjoyed with us at a unique experience of the floating village's tours, Prek Toal Homestay and Bird watching tours that we are focus on.
We also create personalized experiences to all ancient temple tours, hotels arrangement, package tours; and Cambodian cultural experiences around Cambodia with our all languages temple speaking tours by the areas. We are not combining temple guides to be bird guide like other travel agencies that we knew.
Our works are non-salaries and also there is no supporters to us in the salaries. We are using our knowledge, our times, our heart and our soul for all of those works to the villagers because we are love and enjoyed for this job more than we can say.
We are 100% of our tours is invested back into the local community services, by asking them to taking the guests tours in the village and guests stay. And for every contributions and payments that we always ask to do before every tour start; it's will go directly to our community on the same day or before all tours are finished.
One of our guests said:("This tour is a great way to give a little back. Mr. Hoksan uses the profits from these tours to invest in his community. We visited a house he built for a local family and Sophal told us about the other projects Mr. Hoksan is involved with to improve conditions in the village. If you are considering a Prek Toal tour look no further - this tour has it all.")
We are always looking for sponsors to support to our students in the village, so that they can continue their studies from grade 10 till university, if possible.
A big part of your experience is the opportunity for you to make a real difference to the lives of the people in our village. Your visit to our village will help our villagers to get a better life and encourage them to build a good future for their families.
I have a strong belief in helping our community to grow with your support to us. I believe that you will support local business, particularly my family business based in Prek Toal village on Tonle Sap.
We encourage you to join us and our villagers to not only learn about life in the floating village, the wonders of the Angkor Wat region and the Khmer culture and society, but to provide our villagers with the means to financial security.
They can then continue with their traditional jobs like fishing, farming and house maintenance so that their way of life is not lost or threatened.
Why we always ask the guest(s) to do the fully bookings payments before tours start? Because;
We would like to secure for every booking with the guest(s);
Especially all of transportation and other services are provided by villagers that we support them and give them a job to take the guest(s) tours around. We are not hire them to do the monthly payment as like other companies.
After we received the payment from the guest(s), then we will do the payment to them before/after every tours services start/finished.
We understand about our villagers that we support and ask them to take guest(s) tours, they also would like to have money to pay for their daily families expenses after finished trip with the guests.
MY HEART & MY WORKS
As we are a family business, I am working to create an extra job to make the income for our villagers by guests' arrangements tours, stay by bookings with us.
This family business is for everyone in the village. Especially, to more than twenty-five families who cannot survive from their fishing that I provided and supported them to take our guests tour and guests stay from our "Prek Toal Tours & Travel" and "Prek Toal Home Stay". I always keep doing my works to help them and promotes our tours to get more support and guests booking with us. And we hope that, we could help them growth together and their child to be attend at school by your booking tours with us.
Also, I always keep working on our projects to get more guests/donors who is interesting in the developing projects, and for every amount of your money donated, it makes our project achieve and help our community sustainable.
Honestly, I am Hoksan, I spend my life and trying to help my community getting better from our projects and local tours and homestay. We do not have salary to pay like others because we are happy to work and to help from our heart, and especially is my lovely floating village. So that why I do not want to see someone who doing something to get more personal benefit than our villagers.
I am very happy if they would join with us or helping my community better without salary as like we doing; and we are not the miser's greed for money into personal.
We are working in trust and honestly with guests and also our partners.
OUR TEAM
As we are a small family business who is support into our community, and we are working as volunteers with no monthly salary.
And why we do this? Because;
We are more than happy to work for our community
We would like to make our community sustainable, especially provide an extra income to our villagers by taking guest(s) tours; not our personal income
How we get income?
Most of our team are having part time jobs at home and some of us are work with organizations in the village.
We only earn some of small income as the tour guide fees, when we had guests' bookings tours to visit the "floating village's tours", stay at "Prek Toal Home stay" and "bird watching tours".
Mr. AN Hoksan, he is a locally owned of "Prek Toal Tours & Travel", "Prek Toal Home Stay" and also a Prek Toal project manager for the community. And he is the person who spend a lot of time and work for the community without personal income. He also work as tour guide for the village tours, bird watching tours and other services in the village from guest arrangement with small income as a tour guide fee.