ABOUT US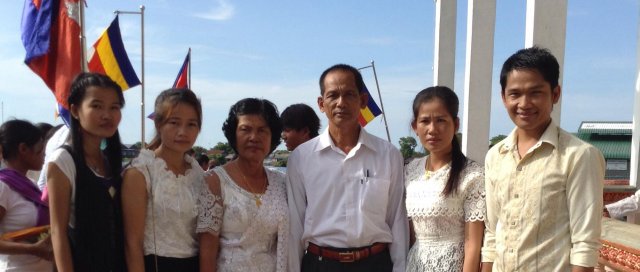 Hello Everyone! Thanks for your visit our website today. I am very happy to shares with you some of our story, Prek Toal team, history of Prek Toal village and also our support to the local community in Prek Toal.
And we look forward to hearing from you and your recommendations our tours to your friends and families; because of every guests arrangements tours with us it will be helpful to make our community sustainable of living and education in the future.
Below is our story;
My parents and their parents were born in the floating village, Prek Toal. My father and my mother got married during the Pol Pot genocide. I and my sisters was born also in Prek Toal and we live for the whole life. Our village is the one of floating village along the Sangke river near the Tonle Sap Lake (Big Lake of Cambodia); located in Battambong province in Cambodia. There are six people in my family currently and we are all fishermen and women.
I am, Hoksan AN (Mr.), a locally owned of "Prek Toal Tours & Travel" and "Prek Toal Home Stay"; also the project manager of "Greening Prek Toal", "Prek Toal Health Care" and "Prek Toal Home and Life Project".
I have tertiary qualifications in business and have built a good international network with more than seven years' experience working in the hotels hospitality and travel industry. Especially, I graduated bachelor degree of marketing in university in Siem Reap.
As we are a family business that support to our local community, so our teams are work as volunteers with no monthly salary because we are working and supporting to the local villagers to get better and better of living environment and education of their sons and daughters. And all the payments are directly to the local villagers in the same day on the tours end.
As I was born from this village, so I exactly knew very well about the history of our village including all activities of the villagers to support their living life, and also with many years experiences about information of water birds including the birds' names that we are focused on. I have trained and shared all the information to our volunteers' team who are also love to support to our community.
All of us are non-salaries but we only earn some of small income when we do as English speaking guide, when we had guests' bookings tours to visit the "floating village's tours", stay at "Prek Toal Home stay" and "bird watching tours".
Our Prek Toal Tours & Travel's team are focus and expert about the floating village and water birds watching tour. We also had and supported to all license temple guides which is suitable with your languages for the temples tours with their many years' experiences.p. So we are not providing the different skill or any combining tour guides which is not matches with their skill and their expert at as like other travel agencies in Cambodia that we knew.
I have set many goals for our tour and travel business that takes its name from my village, Prek Toal;
To shares our Prek Toal community to the world
To share our rural lifestyle - our culture and day-by-day living on the floating houses
To create more job opportunities for Prek Toal villagers to get extra income to support their family lives to supplement income from fishing
To give value to our guests by making arrangements to join our tours, to build and repair houses for our needy families.
We are always looking for sponsors to support to our students in the village, so that they can continue their studies from primary school to university, as I have done and keep working with our project of "Village Developments".
A big part of your experience is the opportunity for you to make a real difference to the lives of the people in our village. Your visit to our village will help our villagers to get a better life and encourage them to build a good future for their families.
I have a strong belief in helping our community to grow with your support to us.
I believe that you will support local business, particularly my family business based in Prek Toal village on Tonle Sap.
We encourage you to join us and our villagers to not only learn about life in the floating village, the wonders of the Angkor Wat region and the Khmer culture and society, but to provide our villagers with the means to financial security.
They can then continue with their traditional jobs like fishing, farming and house maintenance so that their way of life is not lost or threatened.
My opinion to some of local travel agencies:
As we and Prek Toal Tours & Travel; aim to always support our community as they are having a difficult time now. I hope that you will be able to continue to be a good partner in the future. We have good arrangements with local travel agencies, including offering of corporate rates and tours' schedule details.
However, some tour companies are arranging their own trips with guests directly and not using our local service as a partner. These tours are being organized with temple licensed guide. Many of these guides do not have any experiences about the unique environment, the birds in our world-famous sanctuary and the life of the people in our village.
Some of other local travel agencies have contacted us and asked about the price and tour details. We will arrange corporate rates for these agencies as a partner as it is important that both sides of the agreement gets benefit.
As a member of our growing tourism industry, I know you will try to arrange your services in the best ways. I encourage you to get the best guide who can give good information to the guests and who has the best knowledge about the heritage listed environment and its birds. I look forward to working with you to help you give your guests the best experience.
I hope to continually build close business partnerships and trust to help our local agencies in Cambodia. I hope to see all local tour companies display the interests of the community and the customers in their heart.
Your honesty is the best way to share a real experience with your guest(s) so that they are clear about their support for the community.
Our Prek Toal Tours & Travel aims to share our experience of our village, Prek Toal Home Stay and also bird watching with our local expert and appropriate language guide.
Our main goal is to provide extra income and help to our community, a sustainable environment and economy and support education to children in those families.
We hope the local families will get better knowledge and be able to manage their own finances. Revenue from the tours is returned directly to the community, along with donations from overseas to the 'Village Developments'.
Please contact me if you would like to ask me more about the contents of my letter to you. Through our partnership we can make real and honest improvements to our communities.